Let me start by introducing myself, I am Dr. Tyler Stinnissen, the newest team member and a chiropractor at the Brain Therapy Clinic! I am beyond excited to be starting at the clinic I have worked on and off for nearly a decade. You may recognize me (even though I'm wearing a mask) as the summer student over the past number of years.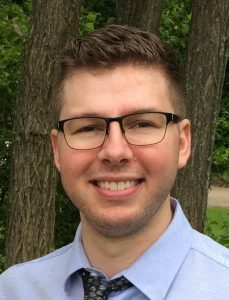 A little bit about me: I grew up in Peterborough attending Adam Scott Collegiate and then I left for the University of Ottawa where I completed my Honours Bachelor of Science with Specialization in Human Kinetics (a mouth full, I know). After that, I began a 4-year stint in Toronto at the Canadian Memorial Chiropractic College (CMCC) completing my Doctor of Chiropractic degree. Two degrees and eight years of full-time school later I am finally ready to help patients and apply my knowledge and skills! 
When I am not in the clinic, I enjoy being outside and hiking, playing card games, board games, and any other game I can find, and more recently golfing! I picked up golf during COVID because it was one of the only things I could do to get out of the house. A difficult, rewarding game, and definitely addicting! If you have any pointers, please share…
As a new chiropractor, I feel I have the best education possible. We focused on the entire body in school, not just the spine. From anatomy to biomechanics, manual skills, and even communication, we covered A LOT! The last year of my chiropractic program was nearly all clinical, treating patients, and really diving into each and every condition we could think of. I spent 6 months at the St. Michael's Hospital Family Health Team with CMCC's partnership clinic. I was able to interact with medical doctors, social workers, lawyers and more while treating patients with many different conditions. It was the best learning experience I could have possibly had. 
Luckily for me, I also have additional experience from my years working at THIS VERY CLINIC! Dr. Horseman and the staff have taught me a lot over the years and allowed me to interact with patients in a capacity I would never have been able to.
In addition to my formal education at CMCC, I took it upon myself to take extra courses and certifications to better help my future patients. I am certified in Functional Integrated Acupuncture, RockTape Muscle Flossing, RockTape Cupping, and Kazemizer Shark instrument assisted soft tissue therapy. I also have experience with Mulligan mobilizations, diversified manual adjusting techniques, Pettibon Posture Correction Protocols, and muscle release therapies. With my undergraduate and doctor of chiropractic degrees, I have extensive rehabilitation and therapeutic exercise knowledge and experience.
Now, all of this might mean nothing to you, and THAT'S OK! Just know, these are tools I have at my disposal to help you with your complaints. In addition to the above, at The Brain Therapy Clinic, we have several modalities at our fingertips to do more than I can with just my hands: Shockwave therapy, spinal decompression, LASER, interferential current, neurofeedback, and much more! And don't forget, you will almost always get some home exercises from me!
The training and tools above really focus on "The Body", however, we are also "The Brain Therapy Clinic", so if you're asking yourself "What about me?" Here's your answer: I have a specific interest in Clinical Neuroscience, which is the study and application of neurology and conditions related to the nervous system. Think concussions, vertigo/dizziness, movement disorders and so on… I am working my way towards being a Diplomate of the American Chiropractic Neurology Board (DACNB). This diplomate program is not recognized here in Canada (yet), however, it is an extensive certification involving at least 300 hours of qualified courses and many more hours of preparation for their rigorous exam process. 
You can see my clinic hours and courses I've completed below! If you have any questions specifically for me or want to book an appointment with me just give the clinic a call! You can find me on Instagram @dr.tylerstinnissen where I'll be sharing lots of different information!
I am looking forward to helping you achieve your goals!